Kenchic latest Billboard AD creating breast Cancer awareness got Kenyans talking online.

Below is the Ad.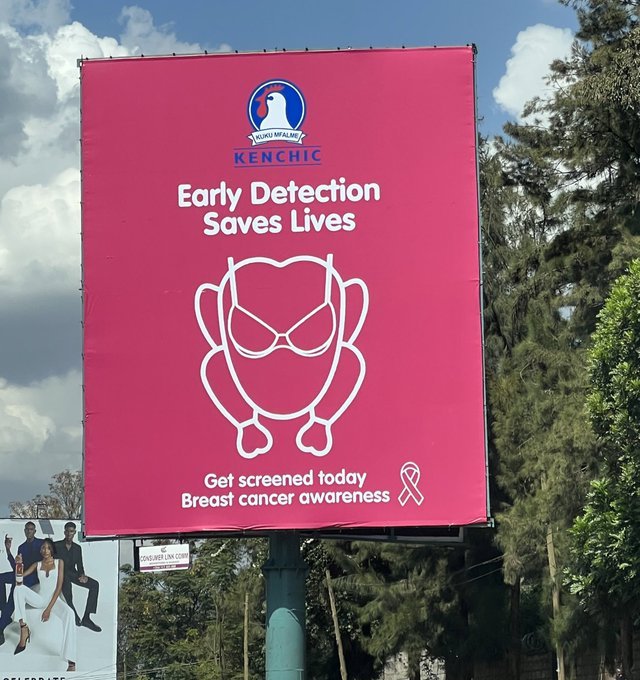 Kenchic shared the post on their social media page
"Breast cancer is a disease that forms in the cells of the breast. It can occur in both women and men but is most prevalent in women. Early detection is key to successful treatment.
If something looks a bit off or feels different, you should go for screening, this can help with early detection of breast cancer. #BreastsforBreastsByKenchic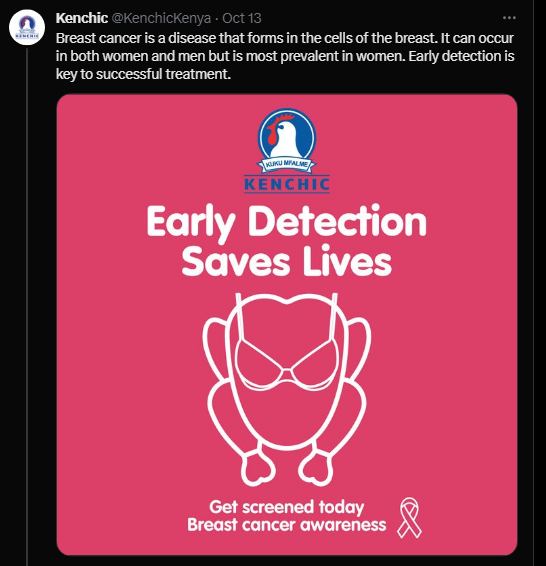 Naona kuna watu walijam after kuona hio Ad. Check below post from Ciiru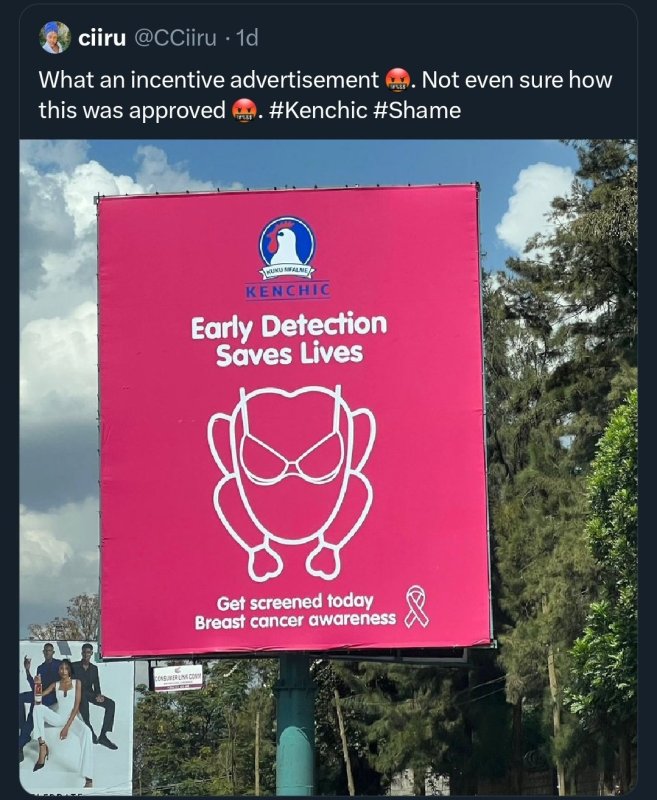 Below are some of the kenyans reactions
Felix:
Feminists wamejam na hiyo story ya Kenchic.

Nyandia Gachago, ACIM: Kenchic have done NOTHING wrong.

As Marketers and Advertisers, we customize each Awareness Ad to our various industries.

Peep the following from Audi, Pandora, etc

Please let's be good,honest people.


MIRAWU : That Kenchic billboard is awesome. Idk what people are fussing about

Kerry: Why are people mad at that Kenchic ad?
Labda ni mimi sioni shida

NANCY MUMBO: There is nothing wrong with that Kenchic Ad, they are in the chicken business, stop reading so much into this!

Felix:I don't see anything wrong with Kenchic creating awareness through a billboard on Breast Cancer. WOKE Toxic feminists should not slam Kenchic for this bold move. Raising awareness is crucial, and there's nothing wrong with the AD. We must end this kind of WOKENESS that unjustly criticizes well-intentioned efforts to raise awareness and support important causes.

Njeri:"How can Kenchic equate us to fat chicken?" Gosh Candice. Why is your esteem in the pits like this?


Akinyi Muyundo: This is creating breast cancer awareness and early detection. Kenchic is a brand and it is not only women who get breast cancer. I applaud the advert and f.i.o, it is breast cancer awareness month. This is a social responsibility advert.


Miss Kerubo: Madem wanono they shouldn't blame Kenchic they should just unfat!


Pablo Calebs: Cancel culture be wildin..sasa ati kenchic pia mnacancel na hamnunuangi frauds

Wan Stan: I also don't see a problem with this ad. Anyway, I am not a chicken naweza kosa kuelewa mbona kuku zimejam.

Saqib:Wonderful message and extremely creative. Way to go Kenchic!!