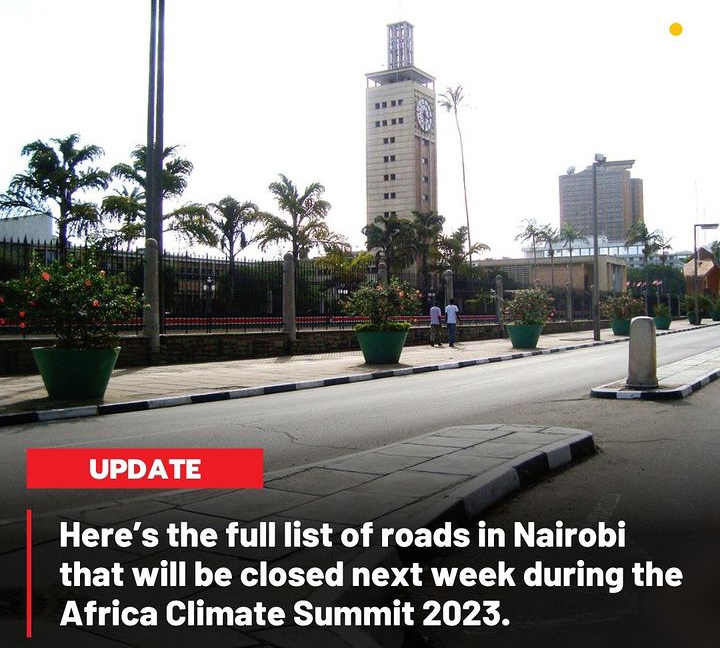 Motorists using select roads in Nairobi will be affected by next week's Africa Climate Summit 2023, happening at the KICC from Monday, 4 September 4 to Wednesday, 6 September.
Nairobi Regional Police Commander Adamson Bungei has announced that section(s) of key roads leading in and out of Nairobi will be closed beginning Monday to Wednesday to ensure the safety of dignitaries and delegates attending the high-level forum.
"Harambee Avenue, Taifa Road, Reinsurance Plaza and the sunken parking are among the red zones. City Hall Way, Parliament Road, Intercontinental Hotel and the Holy Family Basilica will also not be accessible to motorists," said Bungei.
"Matumbo, Pension, Haile Selassie and Parliament Lanes will be closed as well. No vehicles will be allowed to join City Hall Way through Wabera Street," he adds.
The Police Commander provided alternative routes to access the CBD as below;
"Vehicles from Thika Road intending to access Waiyaki Way and Nakuru's general direction should use the Eastern Bypass or the Wangari Maathai Road and vice versa.
Those headed to Mombasa Road from Thika Road should use the Eastern By-Pass or Outering Road while vehicles approaching Waiyaki Way from Nakuru should use Mombasa Road or the Southern By-Pass.
Vehicles from Westlands should use University Way towards the globe roundabout to access the CBD. Those from Ngong Road should access the CBD through Haille Selassie Avenue and vehicles from Mombasa and Lang'ata Roads will use Lusaka Road, via Landhies Road, or Haille Sellassie Avenue to get to the CBD," said Bungei.
The summit is meant to focus on the theme, 'Driving Green Growth and Climate Finance Solutions for Africa and the World.'