Head of Google Communications in Africa Dorothy Ooko has responded to why Andrew Kibe YouTube channels were deleted after Kenyans tagged her in a post.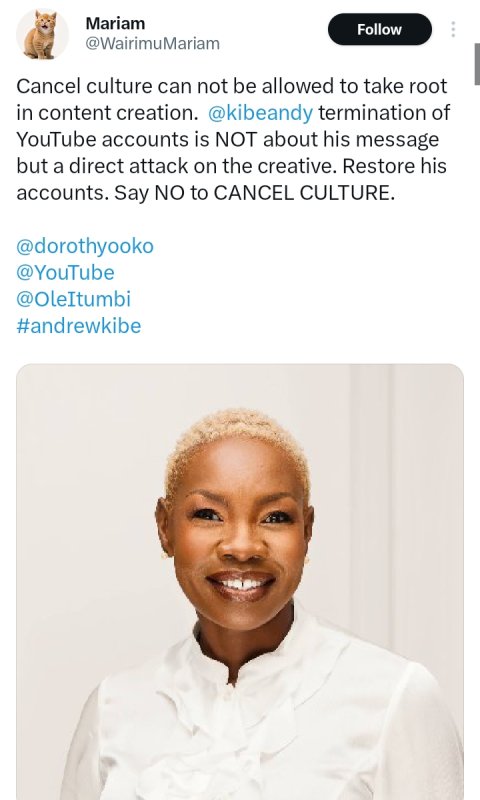 Below is her reply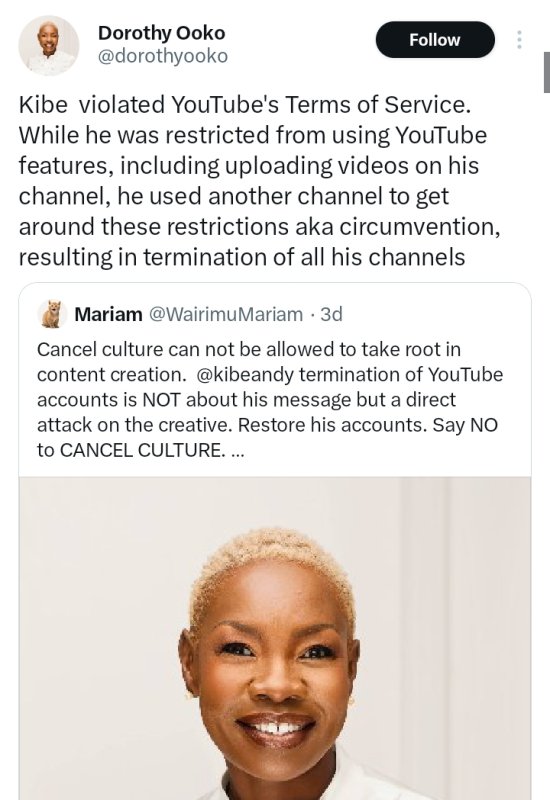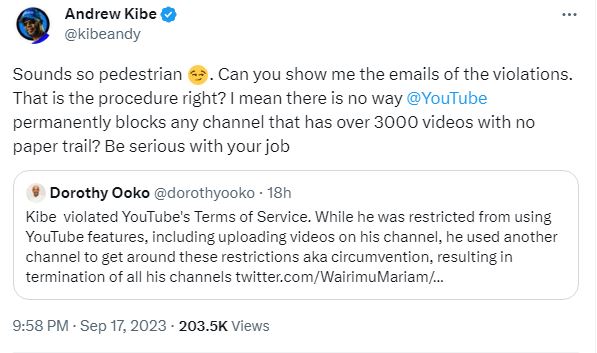 Below are Kenyans reactions.

Bravin Yuri: Which terms of Service did he specifically violate? I doubt he will mind you sharing. But of course, after consent from him. Would be good to know.


Lets Talk Law Kenya: If the account got taken out without any prior warning… that can't be right.


Rajini Nicholas: Hello @dorothyookokindly handle this issue well. Forgive him, he might have done something wrong but I think he has learnt a lesson. Terminating his You Tube channel was a wrong move.


CT:So you decided to terminate the channels without any warnings? Upuzi sana, nonsense.


informationtechnologi:I have come across worse channels still operating on YouTube.But hey the agenda must agend.If YouTube is this vigilant you are going to go places!!

Baba Lucky:But why watch his content if u don't like it


Dennis Kithandi:Terminating it wasn't necessary

Manuela: Where is the receipts of Violation


MagnusMG:The fact that it's women cancelling men tells the whole story. "Shaffie" vibes written allover this.


Kabuba Kahiga: There arr alot of Youtube Channels which i can see, even if i haven't read Youtube's T&Cs, to know that they should have been closed long time ago.. Some even post porn content and are still active. You because of hating your own unawacancel.. Grow Up


Ras Msyoka: Show us emails to this effect. We need to know what terms and conditions he violated so as ti be adviced on where not to tread on YouTube. Or is this you clasping on straws.


Ngeo:How about you consult him and engage him. Parents never use extreme measures to handle their children for making mistakes but reprimand them first before they whip them. So please reinstate all his accounts.

Njoroge The Marketer: This means you cancelled him as a person, not his account.

Surely if you cancelled just his account, he should be allowed to create a backup and continue with his job as he solved the case with his main account.

Did he violate the same Terms of Service in his backup?


k3ith:You didn't like his content so you made sure to do away with his channels. That's so malicious of you
.