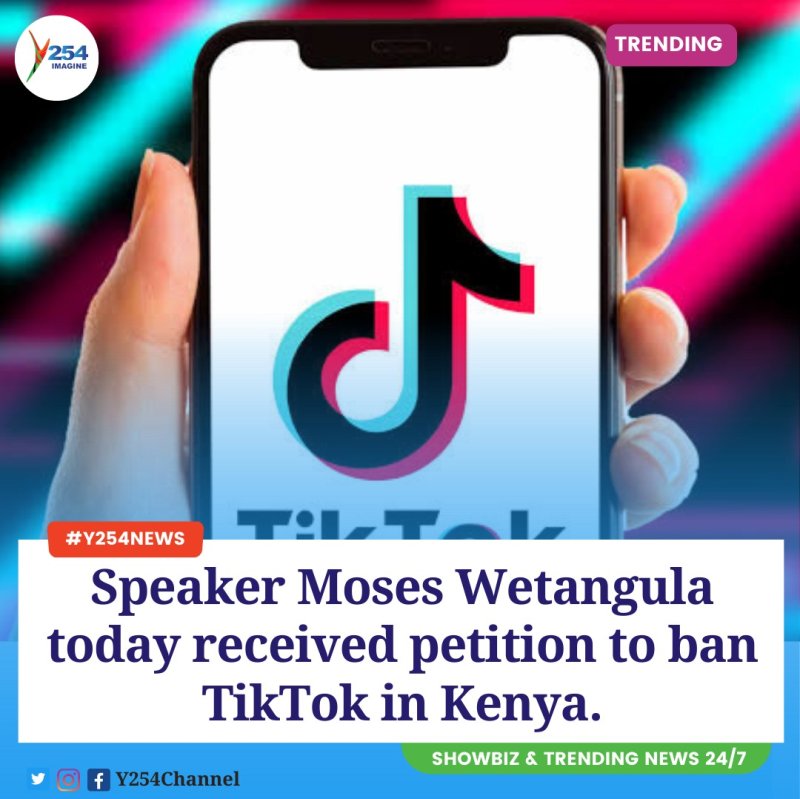 Someone called Bob Ndolo The CEO of Bridget Connect wrote to Parliament asking MPs to ban Tiktok in Kenya for promoting violence, explicit s3xual content, hate speech, vulgar, and offensive behaviour. Content creators who said they're not interested in politics are about to see tears in their eyes.


Started with taxing those who seemed disinterested in politics, the employed, now we get to content creators.


'Just because you do not take an interest in politics doesn't mean politics won't take an interest in you. '

TikTok in Kenya is a source of income to some comrades, Where do the government expect such individuals to get money from?

Watch the video below of the speaker Wetangula receives petition to ban TikTok in Kenya
Below are some of the comments from Kenyans online


Kevin Moishyleez: Rules should be laid on how we should be using social media platforms in Kenya! Banning Tiktok in Kenya isn't wise. The platform currently is leading in digital marketing and endorsements.


Rono:Now that parliament wants to ban TIKTOK in Kenya, Where will Millicent Omanga sell her talent?


The Youthing Magazine: Concerns had been raised by Kenyans prior to the petition regarding the content shared by young users on TikTok. Many users took advantage of the live section to share adult content, inappropriate messages, and engage in bullying behaviors.

Goddie:If parliament bans TikTok in Kenya, we blame tiktokers for turning it to P*rn Hub. TikTok has made so many creatives known but as Kenyans we s3xualize every platform But I also think these mps pick petty issues in society, amplify them, so that they seem to be doing something

Amb. Macharia Kamau: I wonder who's bright idea this is? Maybe we just go for the whole Internet while we are at it. Save ourselves some legislative time



Albert Nsengu, PhD :I've never supported a motion this fast …please do, I co-sign



Gathigi:Azziad na chira watafute new careers


Julishwa: Kenya Kwanza cant take the heat from tiktok

Talibabe:Watu wazee husumbuliwa na nini



Yusuph Kileo: Social media plays a vital role in our everyday lives through enhancing social interactions and promoting business practices
Therefore, it should not be banned

Instead, I guess Governments should take some form of regulatory actions &

We should put more emphasis on educating users to make good use of them.

I stand to be corrected!



Alexander: As this is going on, there are about 120 live feeds in adult content now!


Kitawaramba: Bob Ndolo of Bridget Connect Consultancy has no idea that p*rn is legal on X/Twirra
Tiktok is far more regulated!


DAVOO K!MMZZ: Yes, hiyo app ni ya usherati tu. Nkt

#caicenzo: Naah some of us use tiktok for entertainment we don't even follow kenyan tiktokers

VAR Checking: Oh great, another genius idea from Speaker Wetangula. Because clearly banning TikTok is the most urgent issue we're facing right now.

CHIRAC ELCANA: Those night live session,,,,its a hell its must be stopped

THE CARETAKER: Watu wa tap tap nyonga nyonga

Nickson Nyongesa: A government of double speak , mara ooh we will support content creators mara ooh we are banning tiktok ...mara ooh no fuel subsidy mara ooh fuel subsidy is back

Protus Mukangu:the mover of this petition should weigh the good things that comes along with Tik Tok including the educating and entertaining part of it.If those are the kind of reasons behind this motive,then the best decision is simply applying regulatory measures.


⚚Sanitizer:I would rather travel to Tanzania and Uganda and record a video on TikTok and come back to Kenya every weekend



fmurgoh: What does one get in TikTok from the cheap comedy and sensual female dances? iende kabisa.


Kevin Korir: Tiktok is providing more jobs than the kenyan government...it would be a shame to ban it..online businesses are thriving because of the platform. Creators are making real money without the need of brand deals. Find a way to control the bad without throwing the whole thing away.